This is rather bizarre to me.
I use a custom output style, which on the whole works very well. Journal Articles have always worked fine.
Recently, however, all the spaces and punctuation defined in the bibliography template for Journal Articles (but not for other reference types) seem to be just ignored.
Let's take as an example a Journal Article which looks like this in my EndNote: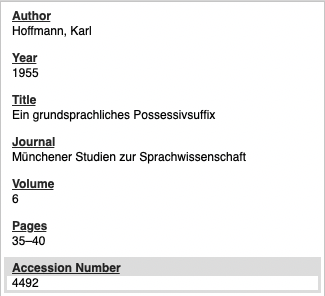 This would be expected to be formatted like this in a bibliography:
Hoffmann, Karl. 1955. Ein grundsprachliches Possessivsuffix._Münchener Studien zur Sprachwissenschaft_6. 35–40.

But instead, what I see – both in the little preview window in EndNote and in an actual, generated bibliography in Word, is this:
Hoffmann, Karl1955Ein grundsprachliches Possessivsuffix_Münchener Studien zur Sprachwissenschaft_635–40

The bibliography template for Journal Articles in my output style looks like this (using * for the link adjacent marker):
Author. Year._Title_. Journal|*Volume|(Issue)|.*Pages|.

There are very clearly periods and spaces in that belonging to their respective fields. The fields themselves are obviously populated in the formatting – but the periods and spaces are ignored.
The corresponding bibliography template for the Book reference type is:
Author. Year._Title_|,*Volume|.*Translator*(transl.)|.*Edition*ed.|.*Editor*(ed.)|*(|Series Title*Series Volume|)|. Place Published: Publisher|.*Reprint Edition|.*Original publication:*Original Publication|.

– and that works exactly as expected, with all spaces and periods intact.
Switching to a different output style, Journal Articles are also correctly formatted, so it does appear to be an issue with this particular template in this particular style… but what? How? Why?
What can possibly be causing this?